It is important to consider the safety, well-being and health of your employees.
During the production of Dunlop boots for the food industry and the marine industry, we work according to the latest safety standards at all times. The boots meet the requirements in the field of hygiene and safety. Shape, material and form is specially designed with usability for different situations.
Most users of Dunlop boots work all day in the boots. Therefore, Dunlop's strategy is to produce boots that provide good support, are comfortable, adapt well to the foot and are warm without making your feet sweat.
Proper cleaning and color selection in clothing prevents cross-contamination.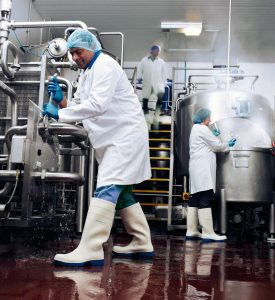 Requirements that Dunlop boots meet:​
That they are sturdy. The most important thing is that the boots provide good protection and safety. They must be sturdy to prevent the worker from slipping or falling. It is estimated that 25% of accidents in food production can be attributed to workers slipping or falling on the job. Therefore, good support can be important to reduce the risk of accidents.
That they are light. An employee walks an average of 10,000 steps a day, so every gram counts to minimize stress and fatigue.
That they are well insulated. It is important that the boots stay dry. With proper insulation, feet stay dry and pleasantly warm during a long day at work.
That they are durable. The boots are strong so that their properties, resistance and tightness are maintained for a long time despite heavy use.
The Dunlop boots are made of:​
PVC: Is a versatile and flexible material. The Acifort boots are part of the PVC line.
Polyurethane (PU): The PU foam is a material that makes the boots much lighter, more durable and with much better insulating properties than before. Dunlop developed the Purofort boots in a unique way where the raw materials are mixed together and injected with high pressure into the boots (High-pressure). In this way, a more even distribution of the PU foam is obtained. The smaller and more similar in size the PU bubbles are, the smoother the surface of the boots. The PU foam also provides better resistance to contamination and bacteria.