Grunden's story began in 1911 in Grundsund, Sweden, where Carl A. Grunden, the son of a sailor, began designing and manufacturing nautical clothing. It is therefore more than 100 years since the production of seawear began in this small village on the western tip of Sweden. In production, it is guided by offering a high-quality product that provides the best available protection in protective clothing for fishermen.
Thanks to extensive experience and expertise in the design and manufacture of protective clothing, Grundens prides itself on being a leading marine and process clothing company that not only offers high quality products, but also cost-effective solutions to meet the needs of the industry.
Grundens' factory in Portugal is ISO 90001 certified, which is an international quality standard for development, production, implementation and service.
HDX is a PVC material that is either lined with polyester or cotton. The HDX material has a long life and is therefore particularly suitable when working in difficult conditions. The material is produced in different strengths and weights so that it is suitable for different situations.
LDU is a material made from PU (polyurethane). The material is particularly agile and strong, but is also much lighter than the HDX material.
LDU01: PU with polymide jersey lining. Total weight: 170 g/m2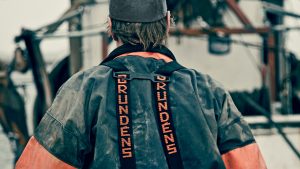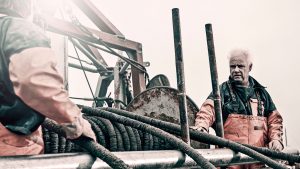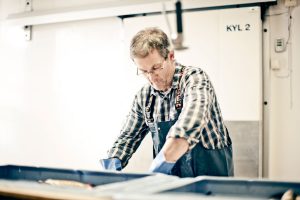 The BRIGG swimwear is made of specially treated PVC material that repels oils. It provides 100% water and wind protection, but is flexible in cold weather and withstands friction well. The BRIGG clothing is lined with cotton and has PU reinforcement on the cuffs.
It is suitable for all fishing, agriculture and other types of industry.
The PETRUS workwear is made of polyurethane (PU), which makes it particularly light and agile. The material repels fish oil and other fats.
PETRUS is well suited for fish and meat processing and other types of industry.